gamedev:textureproperties:color_tint_mask
Table of Contents
Skin Texture Property: color.tint.mask
Description
The color.tint.mask texture property is linked to the color, color.alpha and color.tint texture properties. It defines the amount of tint applied to the image from the color and color_alpha texture properties. This allows to alter the color of textures without requiring new image files for each color variation. Furthermore this allows for dynamic color changes using a renderable for this texture property.
The value is typically a 1 color component image with values located inside the range from 0 to 1.
The default value for this texture property is 1.
Examples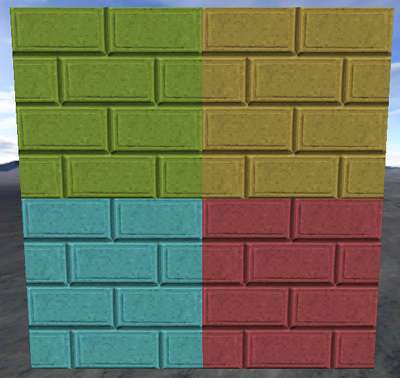 4 crates with the same skin assigned. Each one has a different tint color using a dynamic skin. The skin uses a renderable named "tint" for the color.tint texture property. This way the material can be reused in various places just with a different color each time.
gamedev/textureproperties/color_tint_mask.txt · Last modified: 2019/05/24 23:43 by dragonlord